5 Best Paint for Outdoor Ceramic Pots in India 2022
Painting your plant pots is a great way to add colours and charm to your home and garden. If you want to paint your outdoor ceramic plant pots, then you can choose from different types of paints – late, epoxy and acrylic.
Check out the 5 best paints for outdoor ceramic pots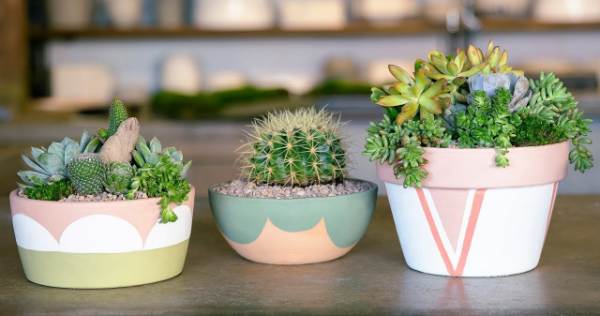 List of 5 Best Paints for Ceramic Clay Pots
Product Details Updated on 2022-12-09 6:25:15 UST
FAQ's related to the Paints for Clay Pots
How to paint the ceramic or clay pots?
Painting these clay pots is very easy. You can follow the given steps –
The first step is to clean them properly.
If you have bought new pots, then they need to be washed and dried properly.
Now you can paint your pots with desired colour and design.
Allow the paint to dry.
Are these ceramic pot paint water proof?
Yes, these paints are water proof. The paint dries quickly and provides a rich colour texture to the surface.
What are the other applications of these paints?
There are many other uses of these paints. They are ideal for painting ceramic tile wall, ceramic vase, ceramic mug, and other ceramic product.
Details Related to the ceramic pots
1
Pidilite Acrylic Colours for Ceramics
Features
Vibrant Colours - Make paintings pop out using the 10 vibrant shades. The Sunflower Acrylic Kit has acrylic colours for creating art and tones that bring out the artistic mood. It lets artists give depth and dimension to their creations
Multisurface Use - The Fevicryl Acrylic Sunflower Kit comprises of vibrant painting colours and refined shades that work across a wide variety of mediums. Apply these paints to various surfaces like wood, canvas, leather, terracotta and even fabrics.
Non-Toxic and Safe -The colouring kit is safe for use by young artists. The paints are made using non-toxic substances and pose no health risk. The cleanup is also very easy after you're done creating art projects.
2
Mont Ceramic Paint
Features
Mont Marte acrylic paint set contains 24 bright colors: this set comes with 24 vibrant colors in convenient 36ml tubes, suitable for most art and art techniques.
Great lightfastness and gloss finish: these acrylics will glide smoothly onto canvas, paper, wood, ceramic, etc. and fast dry to a glossy finish.
High quality pigments: the creamy consistency and high pigments offer great covering power for large areas and fine details.
3
Asian Paints Enamel Spray Paint
Features
ENAMEL SPRAY PAINT – Paint anything instantly with ezyCR8 Spray Paint by Asian Paints that takes 50% lesser time to dry compared to the conventional brush + enamel system.
DIY HOME DÉCOR – Add a pop of color to your décor with this Enamel Spray Paint for metal, canvas, glass, wall, and wood surfaces.
SPRAY PAINT FOR – Cars, Bikes, Metal Gates/Grills
4
Flash Acrylic Terracotta Colour
Features
ULTIMATE PERFORMANCE FOR ANY ARTIST – Highest PREMIUM Quality Raw Materials are specially selected to manufacture our PREMIUM quality Acrylic paint set that outperform the many Alternatives in the market. They are uniquely formulated to bring out the maximum brilliance and color clarity with a buttery consistency for easy mixing and blending.
VIBRANT COLORS - High levels of pigment strength, opacity and permanence,Strong brush stroke retention,Each colors is uniquely formulated to bring out the maximum brilliance and colour clarity with perfect consistency for easy mixing and blending.
ULTIMATE ART KIT - Adults and kids love the versatility of our acrylics. From canvas art, painting, scrap booking and even nails, you will NEVER need another paint set to pursue your passion! They are suitable for most paintable surfaces including Stretched Canvas, Wood,Glass,card decorating,plastic,Craft Foam,Ceramic,Decorative Wallpaper, Terracotta, Blackboard easel,Paper,Art Chalk Board And More.
5
Camel Fabrica Acrylic Colour Set
Features
10 assorted ultra shades in 15ml bottle
Confirms to safety standard EN 71 - 3
Camel fabric acrylic colours are permanent on absorbent surfaces
Product Details Updated on 2022-12-09 6:25:15 UST